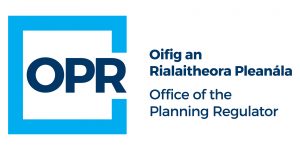 Local Authority and Regional Assembly Staff Training
On this page you can access the recording from the OPR online webinar entitled 'Flood Risk Management and Planning' held on Friday, 27th January 2023. The video link contains the following:
Implementation of the Flood Risk Management Guidelines- delivered by Conor Galvin, Engineer, Office of Public Works.
Flood Data: Access to Data, Data Usage and the Flood Map Review Programme – delivered by Rachel Woodward, Engineer, Office of Public Works.
Plan Evaluation of Flood Risk: Key Learning- delivered by John Desmond, Senior Planner, Office of the Planning Regulator.